Proxvau Laktra (Ixra c)
Status
retired
Proposal Date
92.4
Launch Date
96.6
Date of Retirement
96.7
Space Agency
Kykanta Space Program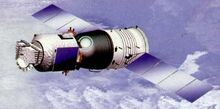 Proxvau Laktra (literally 'Sky Laktra') was the first spacecraft to launch from Laktra. Proxvau Laktra was developed by the Kykanta Space Program. Development was slowed due to lag time in space. The Tripian craft LM3 shipped a wide spectrum of parts that could not be obtained yet with the limited infrastructure. After LM3 had delivered many of the mandatory parts, the progress was quickly finished. Proxvau Laktra was completed on 96.1, a day after an image was unveiled to the public. On solar date 96.6, it finally launched. It's goal was to stay in orbit for at least 2 orbital periods.
Proposal
Operation
Retirement
After Proxvau Laktra landed, the Kykanta Space Program ran a diagnostics test and sent it back to be upgraded. The diagnostics showed no sign of failures or damage, which was a good sign for the program. It is scheduled to be back in the air as Proxvau Laktra II before 100.0.
Community content is available under
CC-BY-SA
unless otherwise noted.