Kykanta Weather Service project aimed to study weather using the stuff the Tripe left behind. So far Kykantakorr and the capitol of New Kykanta have services that warn on their areas. The KWS issues advisories 3 times a day, the early period, the middle period, and the late period. Both issue rain advisories, flood warnings, and drought advisories, including weather forecasts for sectors, wind bullitens are also issued when winds can reach high speeds. Event summaries and event statements are issued when weather has affected people.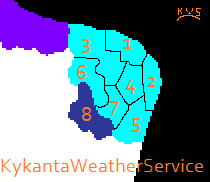 History
87.8 - Flood warnings issued for coastal New Kykanta zones 1 and 2. Rain advisories issued to all of New Kykanta and zone 8. Wind Bulletins were also issued noting extreme winds for New Kykanta coastal zones 1 and 2, central zones 3, 4, and 5, and Future Wind Bulletins for eastern New Kykanta zones 6, and 7, and zone 8 the Kykanta-Tripian Village. Event statements were noted and confirmed flooding of coastal areas. Event statements confirmed an estimated 1000 inhabitants were flooded and affected by the low.
87.9 - Early Day - Flood warnings were canceled for New Kykanta zones 1 and 2. Rain advisories were cancelled for New Kykanta and Kykanta-Tripian Village zones 7 and 8, as the low reverted to its normal westerly steered course. Wind Bulletins in place were updated noting severe winds for New Kykanta coastal zones 1 and 2, central zones 3, and 5. Wind Bulletins were added for moderate winds in zone 4. All future wind bulletins were canceled. Event statements note excess coastal flooding and over 1500 inhabitants affected.
87.9 - Middle - Rain advisories still in affect for coastal zones 1 and 2, as well as central zones 4 and 5. Wind Bullitens were renewed noting only moderate winds in coastal zone 2, and central zone 5. Event statements noted floods across both coastal zones affecting up to 1500 inhabitants.
87.9 - Late - All advisories have been discontinued. Event statements for coastal New Kykanta continue to confirm 1500 inhabitants affected by floods.
88.3 - Early - /Event Summary 1 is released on the "87.8 Kykanta Low".
Community content is available under
CC-BY-SA
unless otherwise noted.